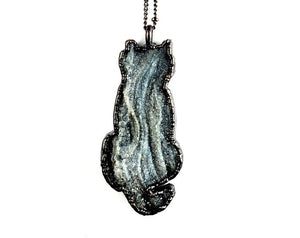 Chalcedony is a nurturing stone that absorbs negative energy and promotes good will. Our Chalcedony cat form necklace not only is beautiful, it is knowns to help bring the mind, body, emotions and spirit into harmony. The Tink Chalcedony copper cat pendant is approximately 2.0" x .95" and comes on a 22"or 30" soldered gunmetal chain.

Size, shape, and color may vary as no two stones are alike.
Handmade and crafted by MergingMetals | Asheville, NC
Please Note: The scientific and intricate process used to add layers of lovely copper is called electroforming. This process can be unpredictable and can take hours to days to complete just one wearable. There may be small perfect imperfections in the copper and it may darken over time.