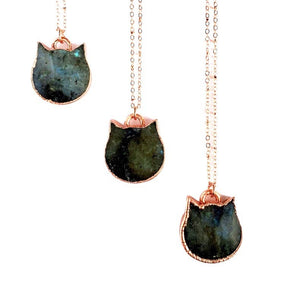 The incredibly beautiful Labradorite has been hand-carved into a mesmerizing cat shape pendant. Surrounded in electroformed copper, the front and back of the stone are uncovered to allow for the "Labradorescence" of the stone to shine. This phenomenon is what makes the stone transform from a gray to a show of neon illuminations in light. Labradorite is considered a tremendously spiritual stone, especially helpful for people who tend to overwork. It helps an individual regain energy while aiding the body and spirit in healing itself. 
Size, shape, and color vary as no two stones or carvings are alike.
Handmade and crafted by MergingMetals | Asheville, NC
Mini Kitties are approximately the size of a penny and on an 18" chain (not 20").
Regular Kitties are approximately 33mm x 28mm (a bit larger than a quarter)